Transitioning from House to Bus in 3 months. Possible?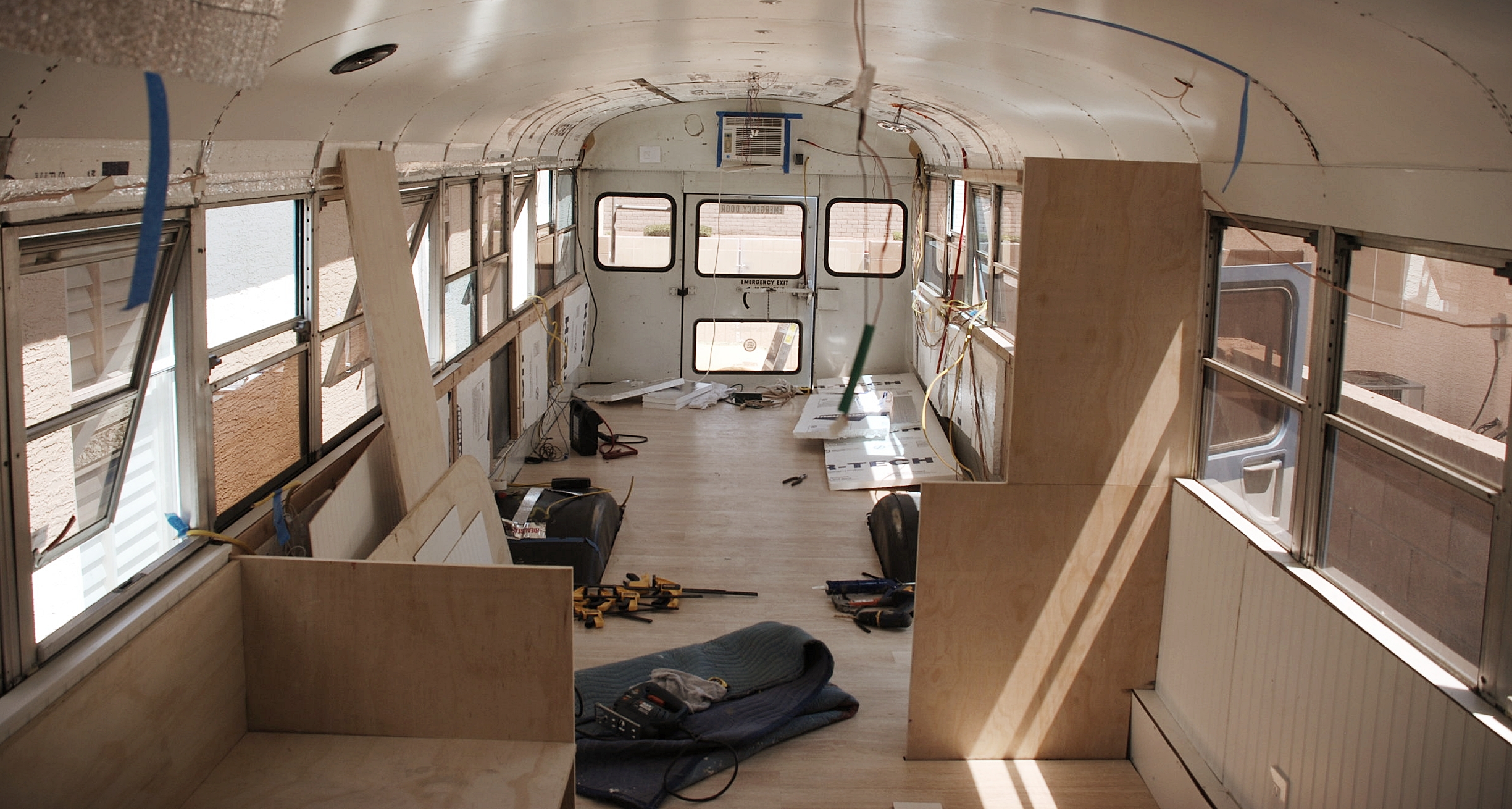 Transitioning from House to Bus in 3 months. Possible?
Awesome!!! Welcome to the Bus Life. Let's get you started down the right road.
Toying with the idea of converting and living in a Bus is a HUGE decision. There are a lot of things to consider when downsizing from a house, even an apartment, into a less than 300 square foot living space, especially as a family of 4.
3 months TOTAL from planning to choosing and buying a bus, the entire build and conversion process, registering it, insuring it, etc etc might be an unrealistic time frame. Limitied income and time available are definitely everyone's main concerns, and the majority of builds I've seen can take a year or more. But with determination, hard work, and straight up effort, it can get done much faster.
My dad is a handy man, and if he tells himself he can do something, he does it. So after watching lots of HGTV, Tiny House Nation television shows, and tons of YouTube videos, we had an idea of what we were capable of and how to at least start projects and learn as we went along. With my mom's help and support, the three of us tore apart, rebuilt, and converted the 11 window Blue Bus in roughly 3 and a half months. We pulled out the metal ceiling, but left the floor intact, since there was no rust and the floor boards were in great condition. We insulated the walls, ceiling, and laid down hardwood flooring. Then added a complete interior.
We worked on it nearly everyday, taking some days off completely or only doing minor work. Throughout the project, we misjudged how much we knew, didn't quite realize how much of a learning curve EVERYTHING was and how much work and effort the build would actually take. Everything during the build is going to be trial and error; you're trying to fit a Home into a People Transporter.
I lucked out and bought the first bus I looked at because it was perfect for my needs. Bought it in March and parked in where it was going to be worked on. Got started on the work in May, worked HARD june, july and then I took off on the big road trip mid August. A total of about 6 months between buying and hitting the road with a completely built vehicle, DOT and DMV approved Skoolie Bus motor home.
Moving forward with your idea of a bus build, it's very important to realize and remember that building a bus is an all-around demanding project. You need to be 100% sure this is something you want to work hard towards and accomplish. Since everything is custom, the building of a bus becomes a 3D Jigsaw Puzzle, finding and fitting all the difference pieces to make it a complete home.
As you mentioned, you will need help with plumbing, electric, wood work, general construction and building knowledge, among other smaller details that pop up. If you and your family have a get-it-done attitude and are able to lend a hand and are willing to learn along the way, your best bet might be finding a do-a-little-bit-of-everything person, who can help you with, well, a little bit of everything. Otherwise you would need help from several people who only specialize in one particular area, a plumber, electrician, and so on. Plan ahead and always make sure you have extra hands to help on particular heavy workload days, such as roof work, floor work, and wood framework.
You have to constantly rememeber the fact that this will be your home, and you're going to want and need certain things to be comfortable in it as a family of 4. Any size family, really. Especially if you're going to be in Texas building it during the summer months, and then living in it, to be able to stay "not hot" to "barely cool" in a metal tube bus, a beefy electrical system is going to be in order to power any sort of AC and your portable electronics.

Safety is always the number one concern. Electric issues, water leaks, engine trouble, making sure the vehicle and chassis itself is in good shape. You don't want to settle for less than you need because of time frame issues. Money is clearly always a concern, and a big project like this can get really expensive, really fast. The last thing you want to do is buy a bus, gut it and then run out of enthusiasm and/or money, then have trouble selling a half shell commercial bus. A nightmare for insurance, even more so, since insurance companies shun Skoolie conversions as is.
Depending on the look you're after, flat-front buses can be nicer because they are much quieter while driving, since the engine is in the back. I know with my dog-nose bus, the engine gets to be pretty loud and annoying, especially after hours and hours of driving. As far as finding a bus, I would google "school bus sales San Antonio" or "buses for sale" "school bus auctions," look on eBay Motors and local Craigslist ads.
I wish you the best of luck on your journey.
-SkoolieLove